Songstats: Real-time music data analytics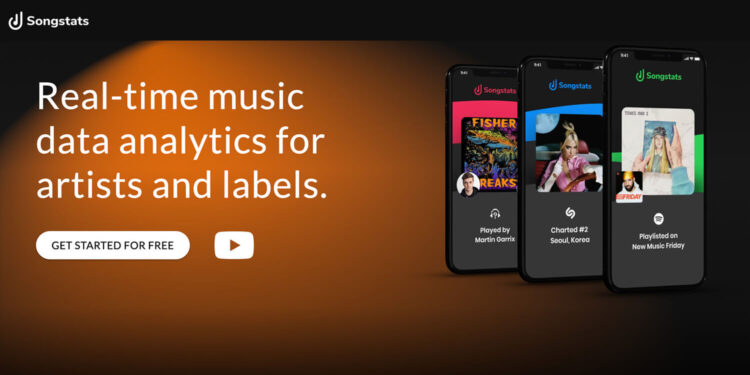 With the ever-increasing ability for individual artists and producers to get their music out to their fans, understanding which tracks are hitting the spot is becoming more and more important. But with a plethora of streaming platforms, how do you measure what's doing well and where your fans are listening to your music?
Enter Songstats – a real-time music data analytics platform for artists and labels.
We're excited to be partnering with Songstats to bring you access to their platform with an exclusive 20% discount for the lifetime of your Songstats subscription, which can be redeemed via a desktop browser through this link.
We caught up with the team behind Songstats to find out more about their platform.
FaderPro: Can you please give us and our customers at FaderPro some background on you and how Songstats began, its main purpose and the inspiration behind it?
Songstats: Songstats actually originated from the team behind 1001Tracklists. Initially we were looking to build a "1001Tracklists for Artists" platform, where we'd notify artists and labels on a mobile app when their music was played by other DJs in livesets, radio shows and mixes.
As we started building the first version of the service, we realized that there are so many different platforms to keep track of. We wanted to become a one-stop-shop for cross-platform music analytics, so we continued integrating more services like Spotify, Apple Music, Beatport & SoundCloud.
We launched Songstats in April, 2020, and we've continued building our capabilities to turn music data into actionable insights and strategic marketing opportunities.
FP: Can you give us some insight into who uses Songstats? Is it normally super advanced artists that are thriving in their careers already, or for  beginner level artists gaining insights too? And what about labels?
SS: Songstats is for any artist or label, no matter your size! Our activity feed and notifications allow for customization so that you can control the amount of updates that you receive.
For example, if you're an artist who's just starting out with a few thousand monthly listeners on Spotify, you can turn on all of your notifications so that you see all of the playlist and chart placements coming in.
On the flip side, if you're David Guetta, then you'd want to apply a higher filter to the updates so that you see only the most impactful notifications, like when you're added to an editorial Spotify playlist with more than 250K followers. Our system smartly determines your default filters, but you can easily change this based on your preferences.
You don't need to be an expert in music data to understand how to make the most of Songstats. We focus on simplicity in design and experience, making it easy to understand the most significant accomplishments and to use our marketing tools to extract value from the insights.
FP: Are there any marquee names that have really championed Songstats that you have worked with or who were the initial pioneers to really kick this idea off into fruition?
SS: Songstats is used daily by teams at many of the leading artist management companies and record labels, including Seven20 Management (deadmau5, mau5trap), Insomniac, Spinnin' Records, Armada Music, Black Hole Recordings, Toolroom and many more.
The majority of our users are artists directly, who love Songstats to receive daily notifications of editorial features, and to track their streams, monthly listeners, followers and popularity.
Some notable artists using Songstats include Vintage Culture, John Summit, Nicky Romero, Dom Dolla, Blasterjaxx, and Ben Nicky.
FP: I think there's a nice synergy between us at FaderPro and Songstats given how important data is for all artists out there taking their music and careers to the next level. At FaderPro, we are pushing artists to learn the incredible craft of music production, and then on Songstats these same artists can see how their music is performing. Would you agree?
SS: Absolutely! We love what you guys are doing with FaderPro, and think that you're setting the standard in terms of the artists that you bring on board for courses with a diverse range of knowledge sharing. These courses are something that any artist can learn from, and your innovative approach to music production education makes it easy to apply the tools and techniques to enhance a producer's skillset.
We think that as soon as a producer finds their groove in the studio and solidifies their artist profile, this is the right time to take the next step and keep tabs on their analytics across platforms.
Songstats immediately becomes beneficial as you start reaching your first listeners and make your way onto playlists. It's easy and also rewarding to see the milestones and achievements start rolling in, and you can take advantage of tools like our sleek sharing artworks and our playlist recommendations to build momentum.