Dom Kane – Top 5 Most Important Plugins For The Structures EP [mau5trap]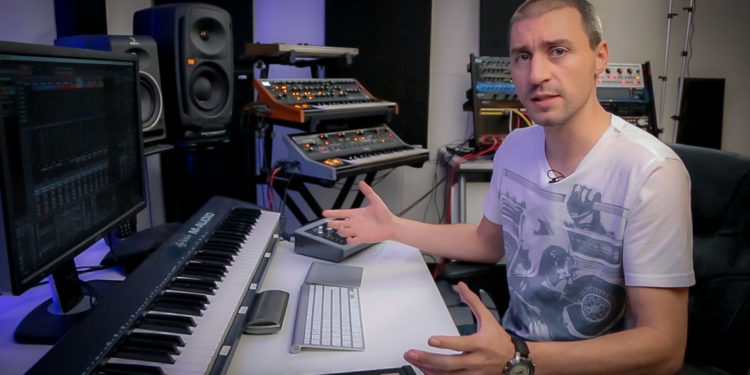 With a new EP just released on Deadmau5's famed mau5trap label, we thought it was a good opportunity to catch up with FaderPro favourite Dom Kane. We asked him about his favourite and most-used plugins when creating the Structures EP.
---

Sonic Academy – Kick 2
"I got my hands on this plugin when it first came out last year, and I've used it in every single project I've done since. It's a kick-drum designer, where you can synthesise the body of the kick, tuning it to a key if needed, and drop in your own transients too. There's a whole host of great features from distortion harmonics to compression, but having the kick as a big waveform in front of you and being able to shape the amplitude and pitch envelopes makes it perfect for me. It's always one of the hardest parts of mixing, getting the kicks and bass to sit right with each other, but Kick 2 makes that job so much easier."
Xfer – Serum

"Serum has become one of the most popular softsynths in the world over the last few years, and rightly so. It's a wavetable synth with a stack of great features from LFOs to Filters of all shapes and sizes, and a whole host of FX thrown in for good measure. Almost all the parameters are assignable to any of the envelope controllers, which makes it great for getting experimental in sound-design. To add to that, the built in presets are superb too, so even if you're new to music production then there's something for you to play with."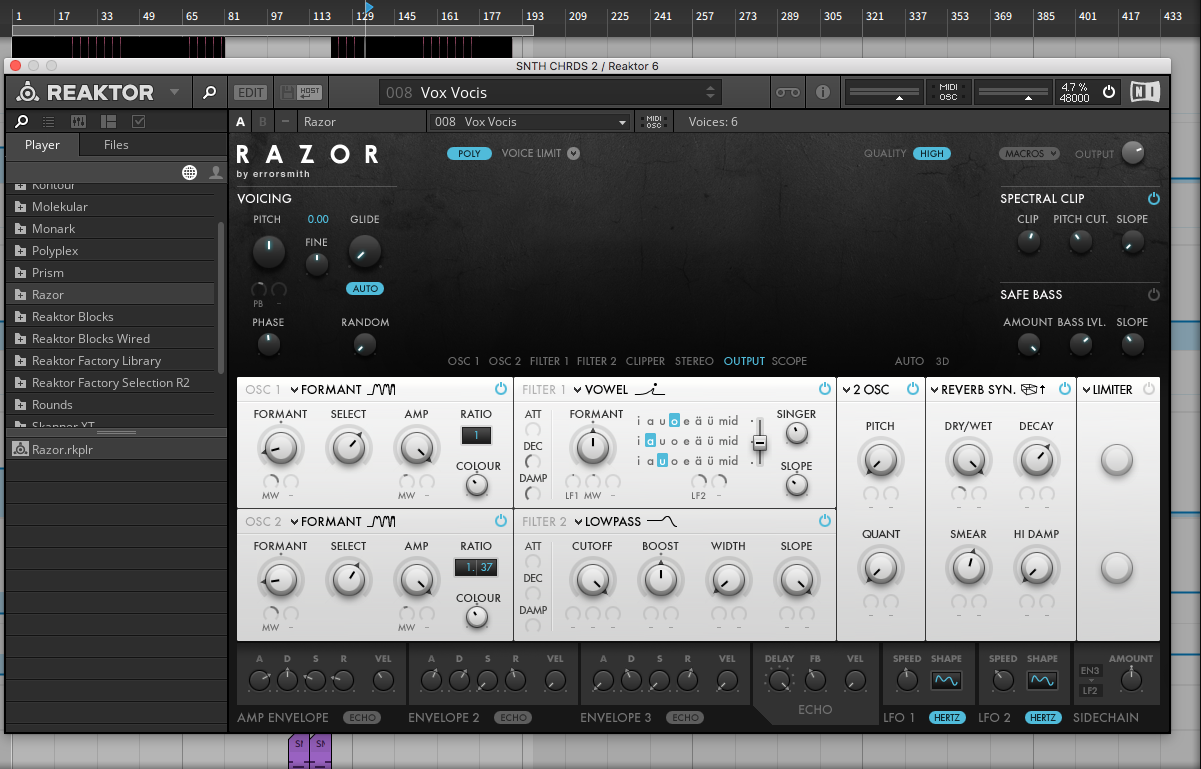 Native Instruments – Razor
"Those of you who've seen my FaderPro videos making my track "Borg" will know that Native Instruments Razor has been one of my secret weapons for a long long time. I have no freaking idea what's going on under the hood of this synth but I love it! It uses Additive Synthesis techniques, which is a rare thing these days, and that's what makes it sound so unique. You'll need Reaktor Player to get it working (that's free from NI), and the presets are fantastic. In fact they're so good that I rarely venture beyond the sounds built in."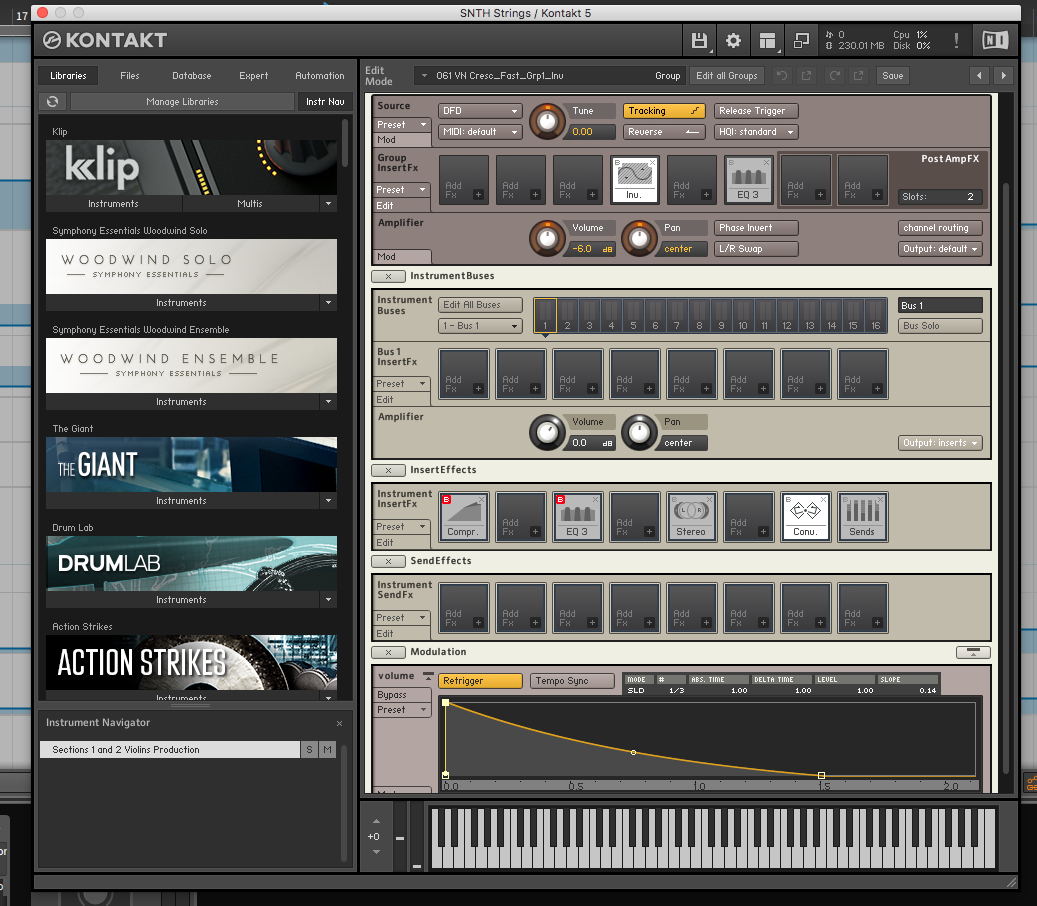 NI – Kontakt 5
"Native Instruments Kontakt probably needs little to no introduction. Kontakt Player is a free download (much like the aforementioned Reaktor Player) that hosts various sample-based synths. For my track "Structures" I've used it so subtly in the background that you can barely hear it, but musically it's one of the most important sounds in there; it's a natural sounding string (violin section) where I've sustained a note through the transition of a chord change in the centre of the musical phrase. This is what holds the emotional tension across the chord structure and melody."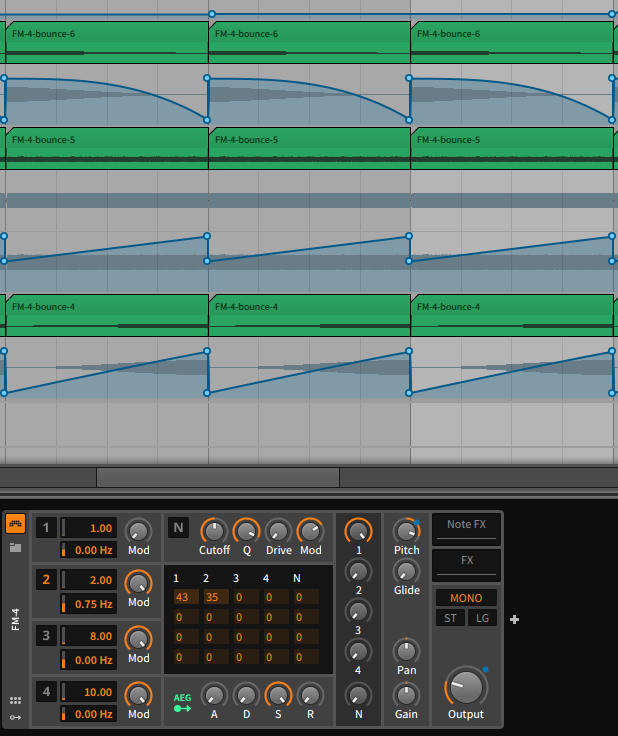 Bitwig – FM4
"OK so it's not really a plugin per se, but the built in FM4 synth from Bitwig is great. There's one built in to most DAWs, and although the presets are generally a bit weak, it's when you start to experiment with your own sounds that these things come in to their own. For the track Structures, you'll notice there are some Shepard Tones throughout. If you don't know what Shepard Tones are, then look them up, because they'll blow your mind! For my track, I've kept it quite simple and stripped back, so I'ved used 3 single oscillator tones; let's call them Tone 1, 2, and 3. Tone 1 is the lowest octave set as a single note rising 1 octave over 8 bars, starting at –inf dB, and rising to 0dB. Tone 2 is the same, but an octave higher, and staying the same volume throughout. Tone 3 is the same but an octave higher again, and starting at 0db and reaching –inf dB. Played together, they sound like an infinitely rising tone, adding constant pressure to the emotion of the track."

Grab the new Dom Kane Structures EP on mau5trap now!
---
If you want to watch how artists at the top of their game like Mau5trap's Dom Kane make music, then check out his course at FaderPro. You can stream the course preview of Dom Kane's incredible course online now.